9700km ride along the mediterranean coast, I reach Costantinople from where I left off. I want to learn more about the food and see how it changes as I ride east.
1 minute intro
The original plan
This project started when I have arrived in Lisbon by foot from the Pyrenees; I wanted to continue my journey and reach Turkey by crossing the north african desert and parts of the Middle East, following the southern coast of the Mediterranean sea (and hopefully learn how to build a darbuka in Turkey).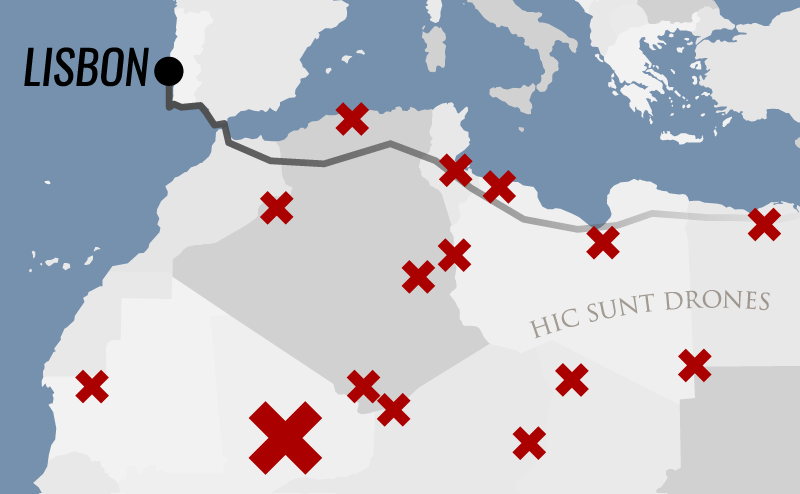 Because war and tensions in the areas I had planned on crossing have arisen, I consulted various experts across the fields of politics, journalism and extreme sports to have a clearer view on the situation:
"You will be sold for ransom as soon as you try to cross the first border" - Mauro Prosperi, pentathlete, police officer and Marathon de Sable hero
"You are going to be kidnapped and sold for ransom money" - Farrah Hawana, Political Science PhD candidate at Genève Graduate Institute of International and Development Studies
"I would not do those 2 trips of mine by bus right now, let alone on a bike" - professor César Morales, reached Cairo from Morocco and Istanbul by bike in 2007
The revised trip
So, considering I cannot do this I have admitted defeat and decided to take the north coast route: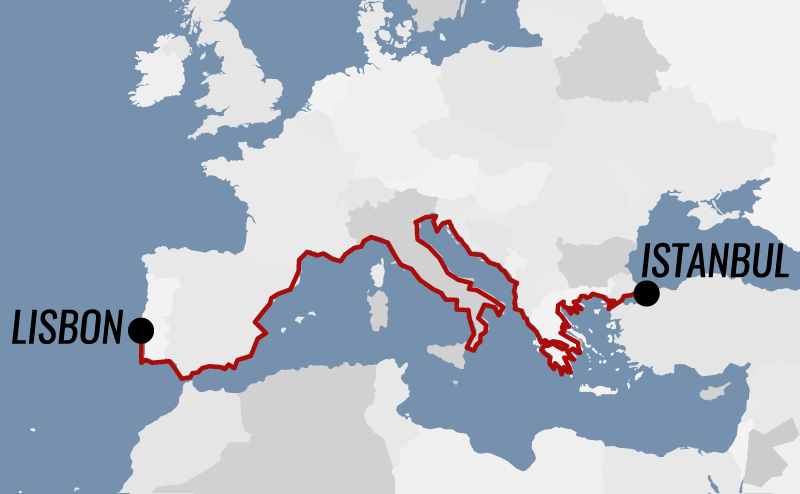 Why do this
I am sure this is where i should speak about how this trip of mine supposedly helps people get interested in a charitable cause, or how by getting exposure i can, by proxy, get people to invest money into something worthy while i am travelling. But the harsh reality is that, like any other traveller, i want to go because i am a selfish asshole and want to continue being an adventurer, this is what I want to do in life and I feel happy when confronted with new obstacles.
That is the reason why i have been interested in travelling solo in the first place, and no amount of distorted representations of this trip i could make up, it'd still be a very (nice) selfish thing to do and nothing more.
Now that I made this very clear I can add that I am also interested in continuing my research in how european culture evolves across countries, especially in relation to food; moreover, what is european culture in 2015?
During this trip I will learn how to cook 3 different local recipes from each country I cross and how the food culture is affected by the place I am visiting.
Key points of my research will include:
Did the Schengen Agreement help unify tastes and ingredients across member states?
Are traditional recipes still being made?
Are new generations keeping their country cooking tradition alive?
Are ingredients in traditional recipes being changed with time?
Are new european citizens helping modify the food culture in different european countries? Are new ingredients available because of this?
Starting from Lisbon I will follow the Mediterranean coast by bicyle and see how this sea connects different societies and lifestyles in a boundless continent such as the European Union; hopefully this will also help me understand better immigration from the southeastern coast of the Mare Nostrum.
Now, i believe that donating to a charity won't fix problems but some money to a good cause can't hurt, so i am also in the process of selecting foundations i would like to sponsor during my trip.
I'd like to focus on something related to any of these subjects:
Prostate cancer prevention
Human powered transportation over automobiles
If you are involved in a charity related to these subjects please let me know, i'd gladly check it out and help promote it if we share the same beliefs.
Funding this adventure
The daily budget being 5€ a day, the whole trip would cost 700€.
Sleeping in tents or couchsurfing will allow me to invest the daily budget on food (for me and my host du jour, if couchsurfing), equipment maintenance, toiletries, etc.
In order to explore how food waste affects economy and society i would also like to go freegan when possible.
I would be able to self fund this trip in different ways:
Cooking during my trip
It would be nice to see if there is a viable way to cook for others during my trip and try making some money out of it, unfortunately european laws on street food are very rigid and i have to see if and how i can get a permit for the handling and preparation of food, otherwise i will be technically able to cook only for friends and hosts.
Volounteering in farms, communities and ecovillages
I have collected a list of all ecovillages and independent communities in Europe and i will contact them in order to see if they can offer me hospitality in exchange of volounteering on site.
Help Exchange and other volounteer work communities will also come in useful. I would love to volounteer in a food-related community, possibly helping who has nothing to eat.
Production of artisanal goods while travelling
In my previous adventure i have dabbed with creating handcrafted products in my time off, so that i could sell them the next day: i would pick up resources (such as sticks, nuts, leaves, resin) from the woods where i was walking and work at night to produce things to sell the next days; this has proven to be an easy way to pay for extras such as wine, a bed where to sleep or a bigger meal.
Why should I start in Lisbon
I have concluded my previous adventure in this city; after exploring Spain and Portugal I want to continue my research from where I left off and continue seeking eastwards.
Why end in Istanbul
In a gradual exploration from west to east, the polar opposite of Lisbon would be Costantinople; it also seems obvious to me to end a Mediterranean culture trip in a focal point such as Istanbul, especially if i have to avoid all the southern half.
With whom
No team, this is going to be a solo adventure - friends are to be made on the way
Has it been done already
The internet tells me it has never been done following the coast as I plan to do, but there are previous examples of shorter trips:
Which countries will i visit
How will I reach Istanbul
This is going to be an overland bycicle trip from Portugal to Turkey, one take.
This means no trains, no cars, no planes, no buses, no breaks mid-trip, nothing but bike from Portugal to Turkey.
I already own a mountain bike and I have tested it long enough to know it could work; the frame is a few centimeters short for my height and is uncomfortable in the long run, but that's what i have.
I am deciding if i should switch to a touring bike instead, and how this choice will affect my choice in paths to follow.
What kind of training will i do
I never train before my adventures, because that's one of the main reasons people do not partake in adventures.
I want to prove that all it takes is some free time and the will to leave.
Fortunately time is not a concern of mine and I can train as I go, following every day this simple regime:
When tired place tent, eat and crash
The very first day is going to be difficult, the second the hardest and between the third to the tenth day it's going to a massacre.
Then things will, very slowly, get easier.
How long will it take
9700km divided by 70 km a day equals 139 days, as I progress i aim to reach a higher km/day count, ideally 100/120.
I will stop in certain places to record videos with locals, otherwise i expect one day stops only.
Temperature is expected to be between 0 and 30°C and the weather forecast tells me i'll meet rain, snow and angry farmers. Yay.
When should I start
Starting in March will allow me to cross the hottest part of Europe in spring and be in Istanbul around July which seems optimal.
This time window will give me enough time to collect, prepare gear and funds.
Where to sleep
There will be an insane amount of camping in my tent and couchsurfing.
What would be useful
If you have money to spend please consider donating to a charity promoting prostate cancer awareness, a better environment for future generations or helping hungry people having enough food.
Better yet, together with the money consider going to help, volounteering will make you a richer person.
What you can do for me is to click on one of these buttons and follow me on my social accounts:
Having a lot of fans will help people trust me and they would be more inclined to let me put my tent on their land, instead of using me for moving target practice with their rifle; this will be a lot more useful than any piece of gear or amount of cash.
This project is still in fieri as I am organizing it right now, if you have any suggestion please do let me know, any kind of info could be really valuable for me.