Eight Amsterdam secret things to do that nobody tells you about when you are a tourist
A city like Amsterdam has much more to offer than the pre-packaged tourist shit, take a better look
When you are looking for tips on what to do during your visit in Amsterdam you usally read boring blog posts about the Red Light district, the Bulldog coffeeshop and Madame Tussaud's. This commercialization of the soul of this place is one of the reasons why dutch people don't like tourists, and partly why prices are so high.
If you don't want to do what other visitors do and would rather spend time with locals, without wasting money on pricey tourist traps, you should follow this list of tips and try them out next time you are visiting this beautiful city
Drink delicious IPA at Brouwerij 't IJ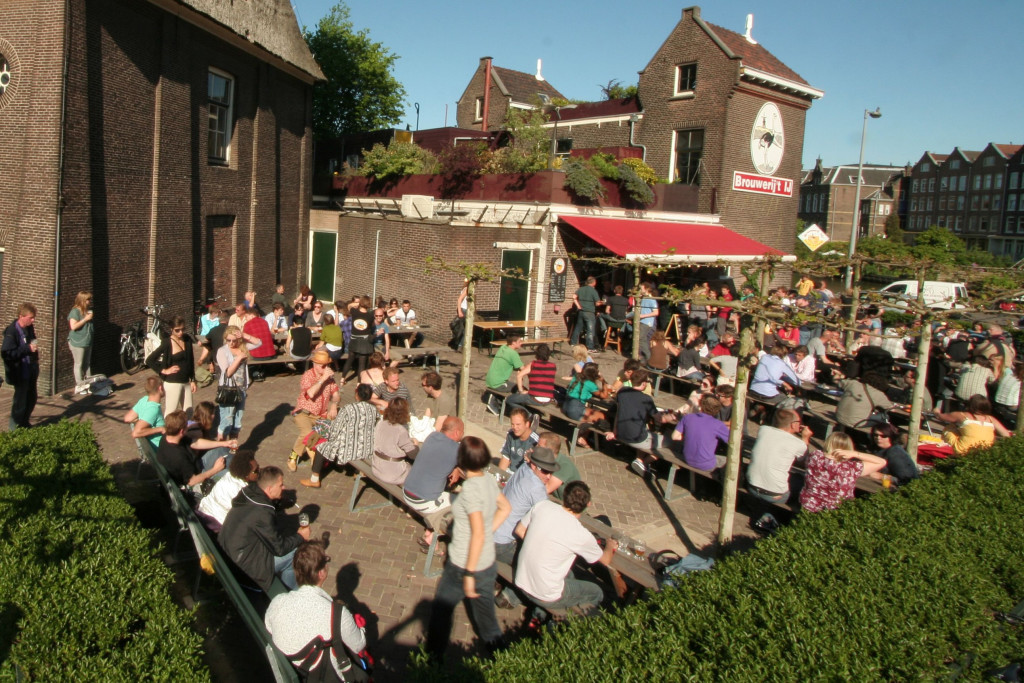 The local beer brewery Brouwerij 't IJ is not included in the common list of tourist attractions, and that's one of the reasons why locals like to spend time there.
Hop on a rented bike -or walk, it's just about 15 minutes far- and from the Centraal Station head east, you cannot miss the De Gooyer windmill towering in the sky and the brewery is right next to it.
The terrace is a must on sunny days, along with their IPA beer (the one with a naked tattooed girl on the label), some dutch cheese and a boiled egg with salt sprinkled on top.
Beware, it closes pretty early so make sure you go there well before 8PM.
Try some of the cheapest and best weed in Amsterdam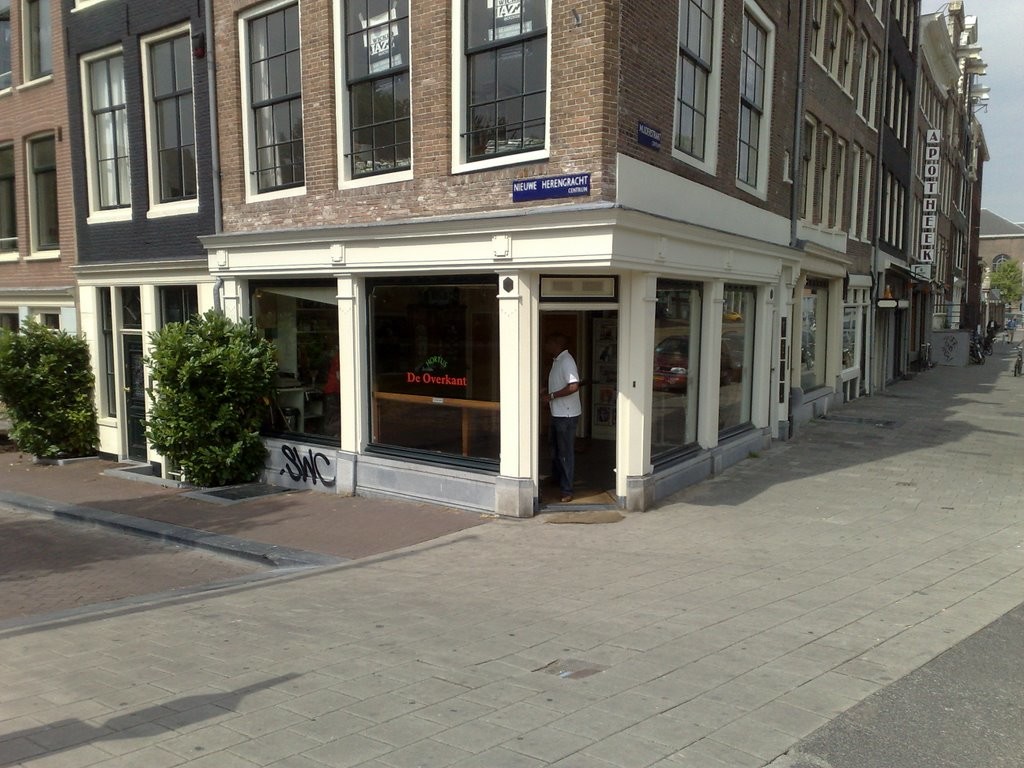 Avoid coffeeshops near the Red Light district, such as the Bulldog, and buy some of the best and cheapest weed in Amsterdam at De Overkant, right next to the Hortus Botanicus garden. The staff is a bit uptight with foreigners but they're polite and have a nice selection, 10.50€/g Korsakoff and 3.5€/g thai nice.
If it's sunny and warm they sometimes put chairs outside, and after 420 blazing it you can visit the garen, or..
Have delicious african food at Kilimanjaro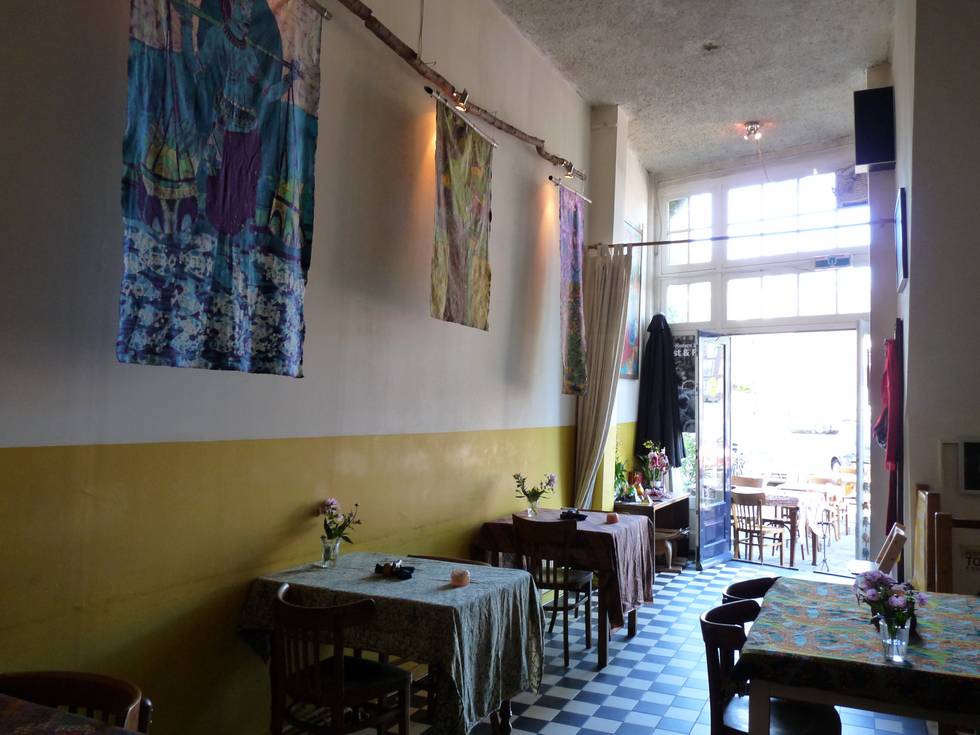 I used to live pretty close to Kilimanjaro and rapidly became a fan of their food.
The dishes are huge and satisfying, if you are new to Ethiopian food i suggest ordering the mixed injera – an african flat bread you use to accompany different kinds of meats, beans and vegetables.
Try the coconut beer if you want some post-munchies refreshment and do not forget to order the tradictional Ethiopian coffee, roasted at the very moment and served following the tradiction. 10/10 gg well played would eat again.
Not into african food? Then to satisfy the munchies try..
The best cheap sushi in Amsterdam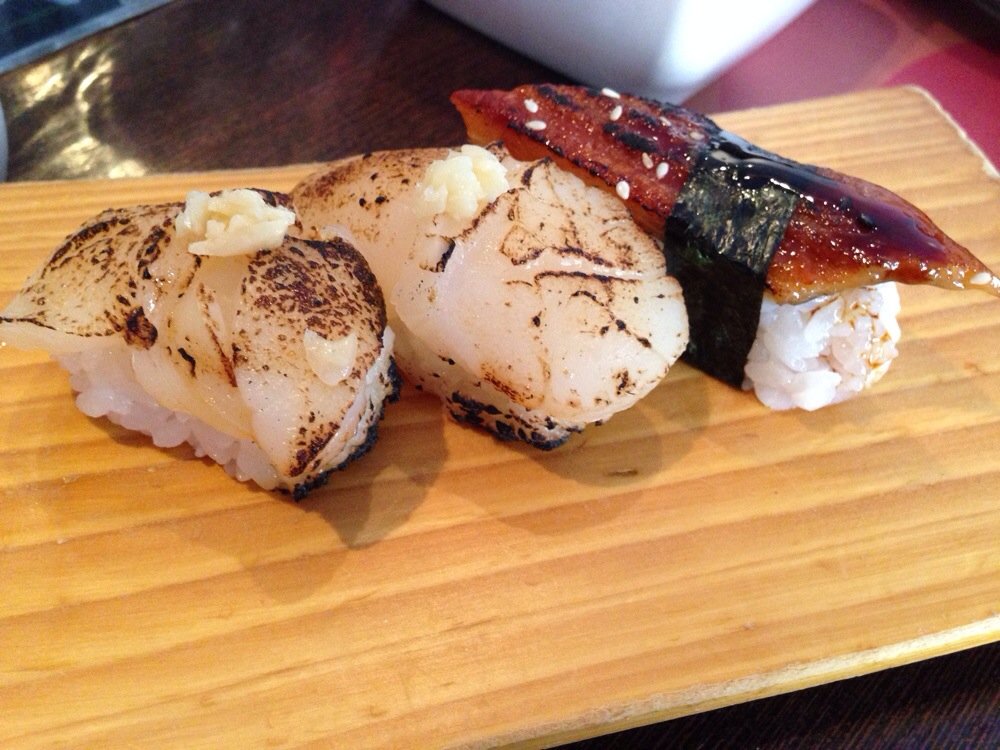 While Amsterdam has plenty of high scale sushi restaurants, right between Centraal Station and Dam Square you can find the best cheap sushi in Amsterdam at Kyoto Café; i suggest going there when you are feeling very hungry, if you catch my drift, and get the pricey 28 euro all-you-can-eat menu. While the price here is definitely higher if compared to other places, at Kyoto you are served delicious sushi made right away (whereas in other cheaper sushi bars, and my hostel friends that threw up all night can attest, you will be served old fish), one of the best you'll have ever eaten.
I suggest ordering the very spicy tuna roll, the spider roll and the dragon roll – the trifecta of salivation.
EYE Museum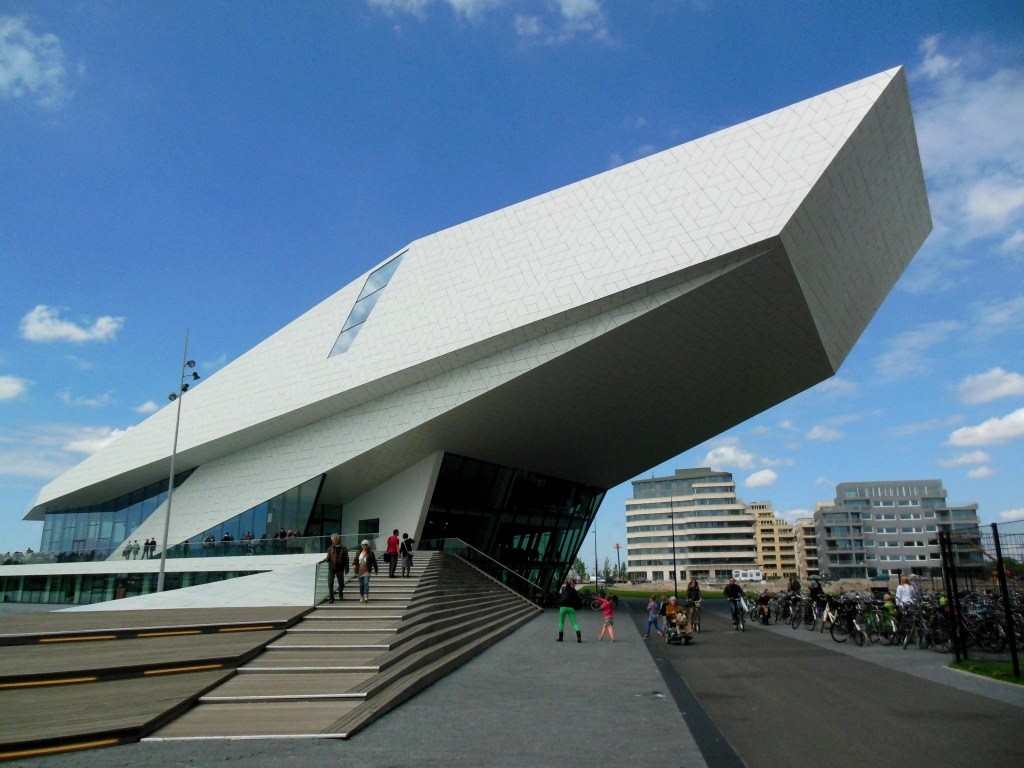 Right behind Centraal Sation you can find two ferries that will allow you to cross the Ij river for free every 5 minutes, one of them will bring you to the weird, futuristic building you see on the other side.
This building is the EYE Film Institute, a place that makes for a great visit during a lazy afternoon.
While there are always plenty of expositions on show that you can see there, i suggest also going to pay a visit at the free part situated in the lower floor, where you can play with different machines related to the history of cinema. When you're done with the eye candy you can cross the eye again and take the other free ferry on the Ij, towards:
NDSM Werf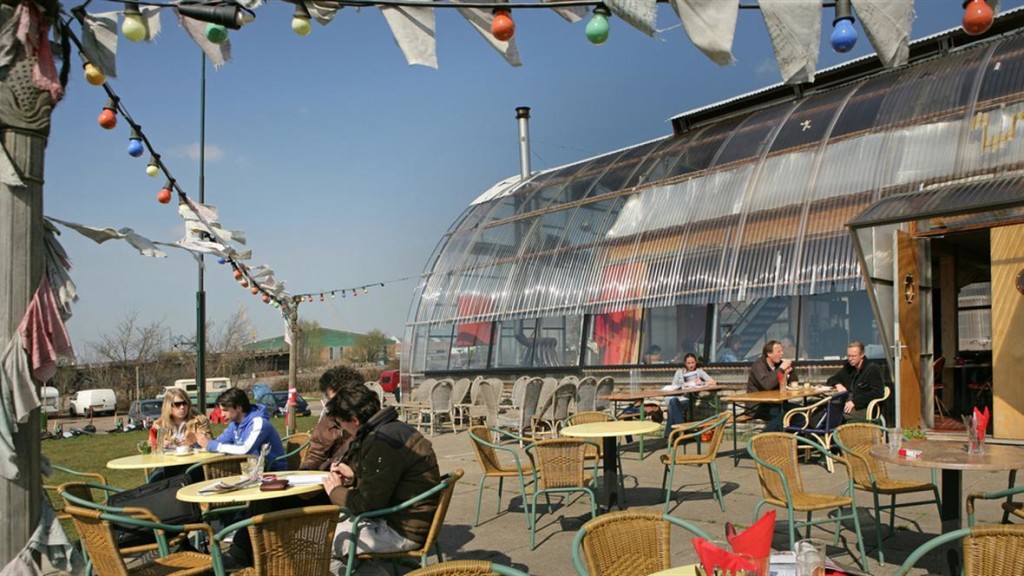 The NDSM Werf is an abandoned shipyard that has been renovated and that is the host of several artistic and commercial activities, along with the only Amsterdam flea market you should go to. If you like movies like Mad Max you should hop to the nearby Noorderlicht Cafè to have too many beers and fried kaastengels while checking out the post-apocalyptic environment, if it's a summer warm night you can also start a small bonfire to have one of the coziest times the dutch capital has to offer.
After such a tour you're going to wake up hungover and and needing a warm tea, i suggest visiting hipster paradise
Droog

The peaceful atmosphere and fun art at Droog Store, expecially if you need some relax, are a cure to the chaotic Amsterdam party nights. Things were always too expensive for me but when visiting i never failed to have a mint tee (which, countrary to the name, is just a bunch of fresh mint in a glass of hot water and contains no tea) and a cake at their bar upstairs. Over the bar there is also a gallery and a tiny hotel, make sure you also visit the garden for some serious chilling.
Now, how about a movie and a beer?
Kriterion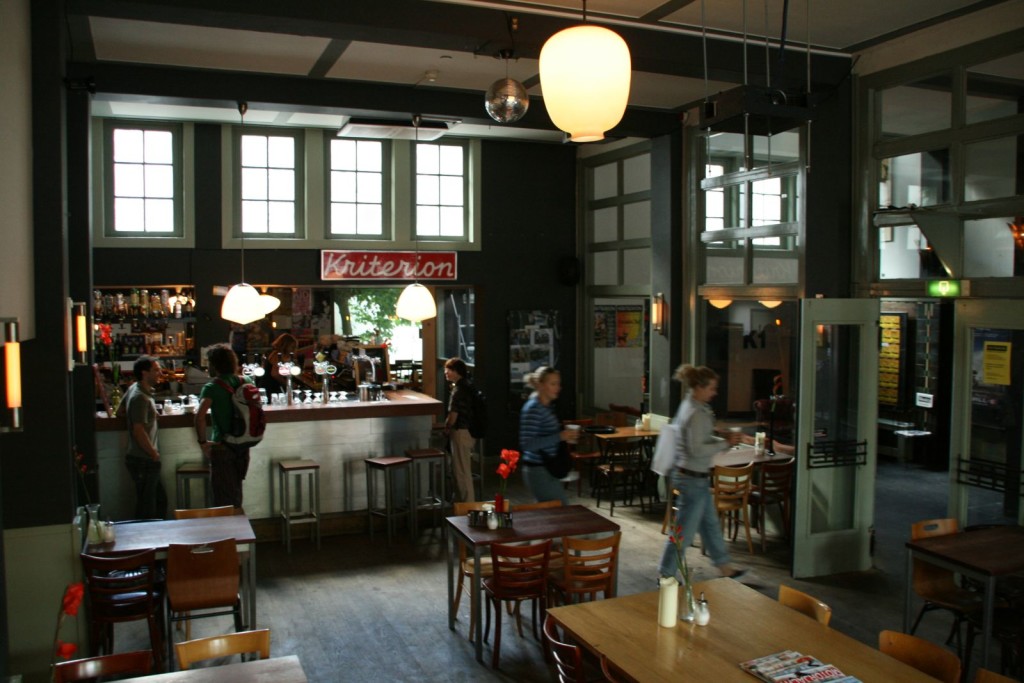 Kriterion is a very old dutch cinema, entirely run by film school students (from i could understand, the students periodically switch roles so that everyone gets to do everything from management to bartending and cleaning), that has a great selection of movies usually ranging on the artsy part of the spectrum.
They offer beer at cheap prices and their bar is one of the coziest where you can be (try to get the couch by the big window).
Check out their website for Sneak Preview Nights, usually on Tuesdays, when for only 5 euros you can partecipate to a movie preview before the official release: before buying the ticket ask for the candy licorice with a cryptic message that reveals the title without spoiling it, otherwise just dive in without knowing anything and enjoy the magic of cinema in an old, WWII era theater – just make sure it's the english subtitles night!
So, there you have it, next time you're in Amsterdam you can stop being yet another tourist and try these tips.