Gear rundown
The equipment I brought with me during this adventure changed while I was travelling. With time I lost bags, racks and got rid of things I found myself not using anymore
This is a short list of what I had with me in the last days:
My bicycle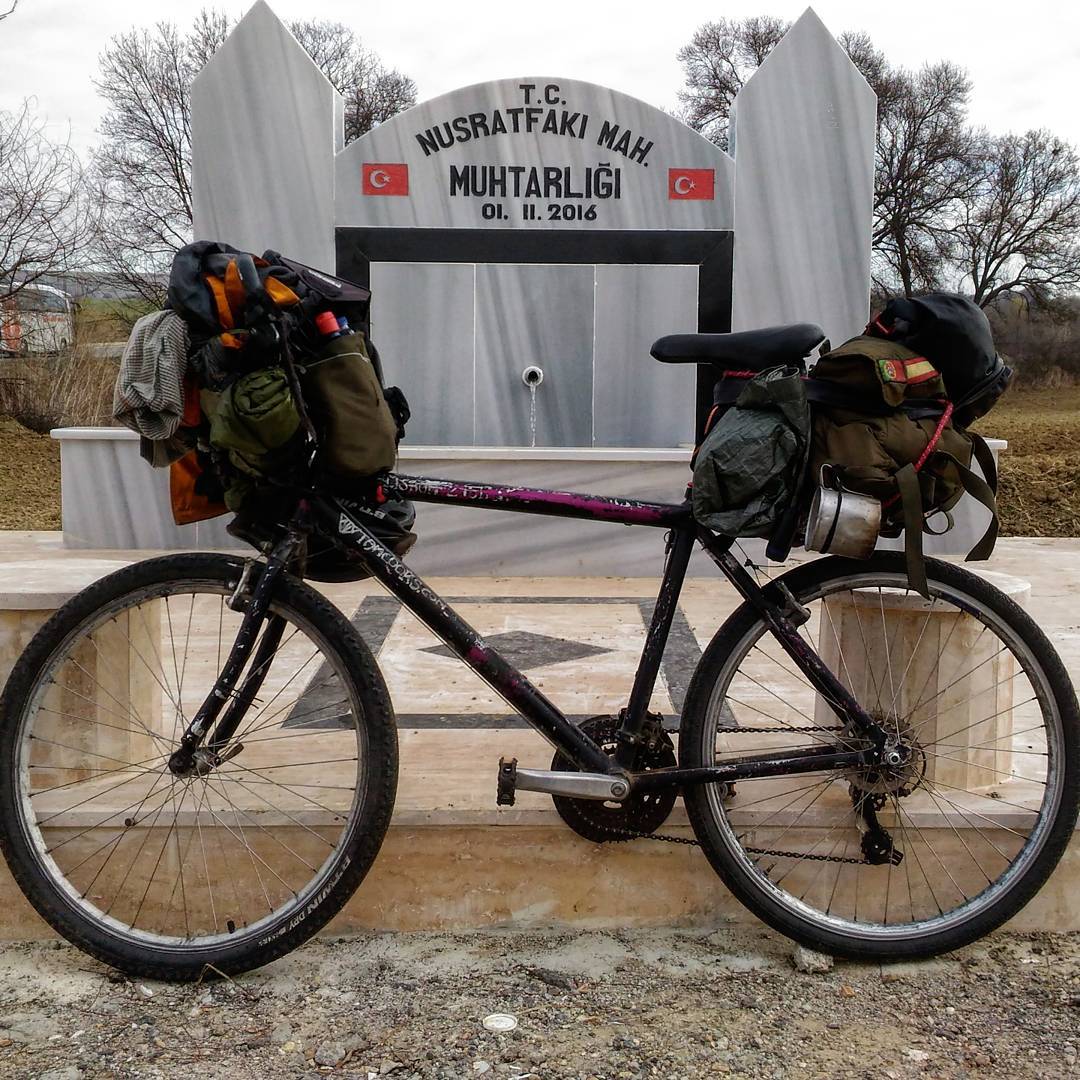 After my prospect bike sponsor Bellitanner disappeared with my down payment, I asked to Vitor Peixoto at Rcycla Lisboa to build me a bike at the very last minute, allowing me to finally start my adventure.
It's an old mountain bike, steel frame; judging by its shape I assume it's from the 90's
I asked Vitor to prepare a sturdy bike for me and paint it matte black to minimize being seen while stealth-camping, where it's scratched you can see the purple paint below.
For long bikepacking tours like this one I suggest using a solid mountain-bike over a shiny nice new model: being able to cross rocky mountain paths, muddy fields and abandoned military bases covered in shards of metal beats using any kind of ultralight, full-carbon race bike.
Tarp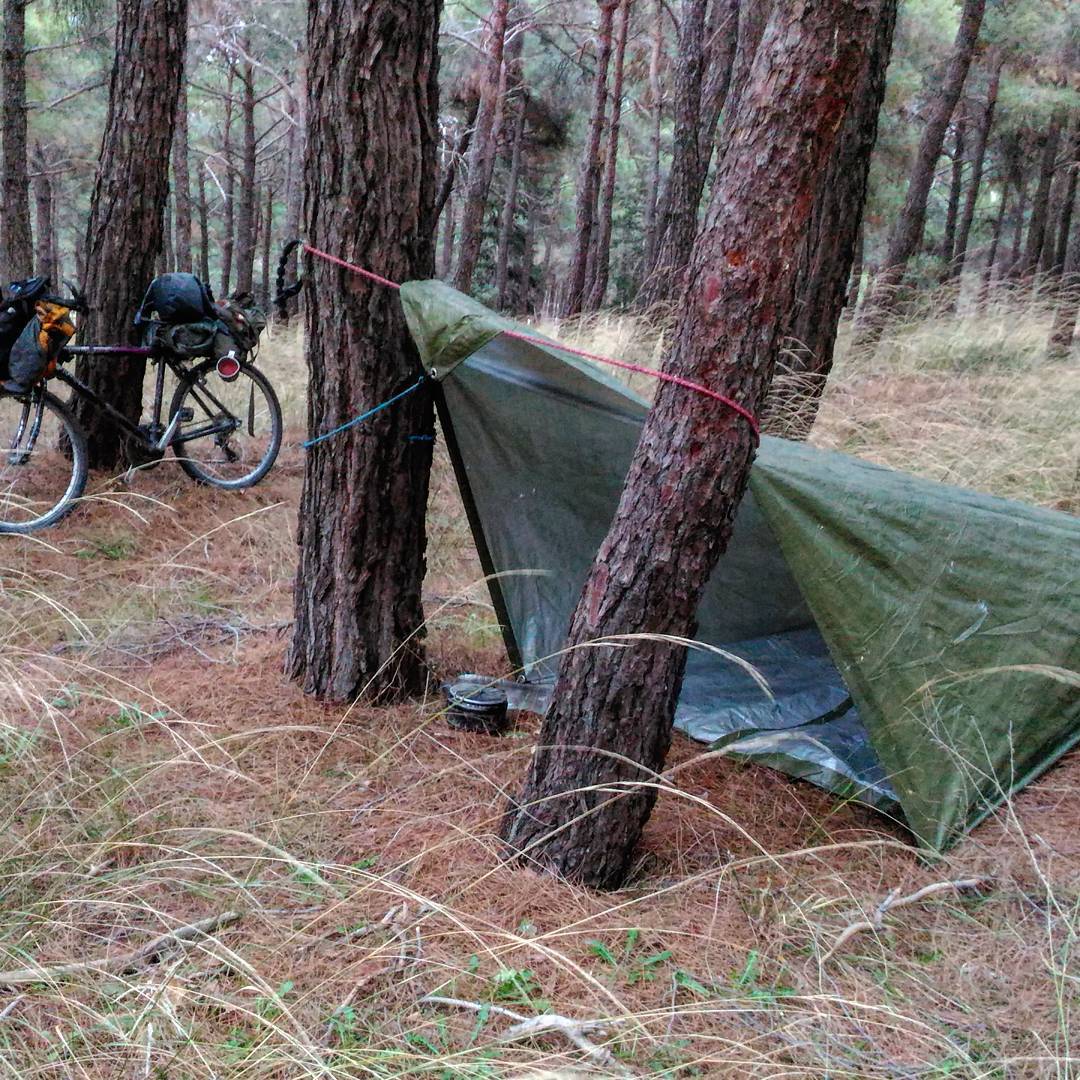 I have started my trip with a 21€ WARpenaz 2 tent from Quechua.
It is a really nice shelter, freestanding and can survive the harshest climates; pity it weights more than 2kg.
I substituted this tent with a much lighter alternative, a 0.8kg Sintesi 1 tent from Ferrino which has proven to be a complete disaster: lots of condensation, leaking during rainstorms and faulty tent poles.
What I settled down with for the last third of my trip was a simple 3x3mt gardening tarpaulin, pitched with 3 stakes and two cheap bungee cords
This lightweight setup allowed me to camp everywhere I wanted and to be part of the outdoors in a very different way than what I was used to.
Clothes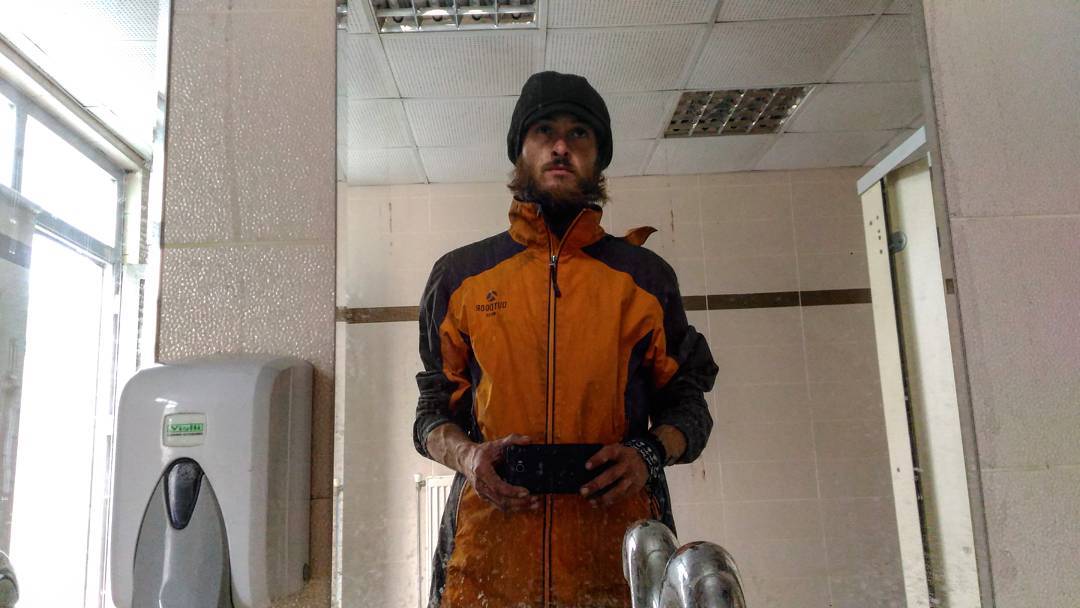 I started my trip carrying way too many things, and clothes have been the first to go
At the end of my trip all the clothes i had, including those on my person, where:
Cooking set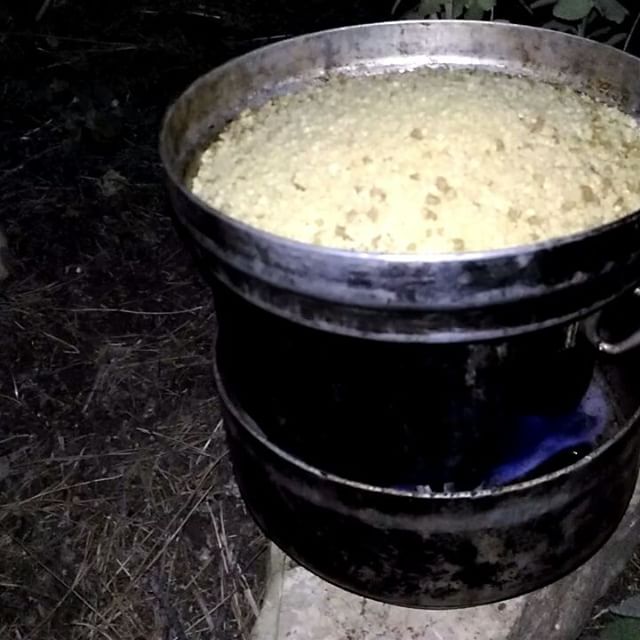 During the first part of this Lisbon to Istanbul adventure I did not cook as much as I wanted: I'd find a spot where to camp very late in the evening and usually I'd eat cold sardine sandwiches and beans straight from the can, trying to hit the bed as soon as possible.
When the cold, shorter days started, i found myself wanting warm food and hot soups, so I built myself a tiny alchool stove using scavenged materials (two cans, some metal wire, a ball of cotton stolen from a plantation).
My cooking set consisted of:
Czechoslovakian Army mess kit from Varusteleka; it weights a ton around 600g, but allows you to boil water and stir fry ingredients - also double works as a blunt weapon against bears
Plastic spoon with the handle sawed in half
A sturdy knife
A can stove
95% alchool fuel
Pot holder
Tiny bottle of oil
Lighter
Toiletries kit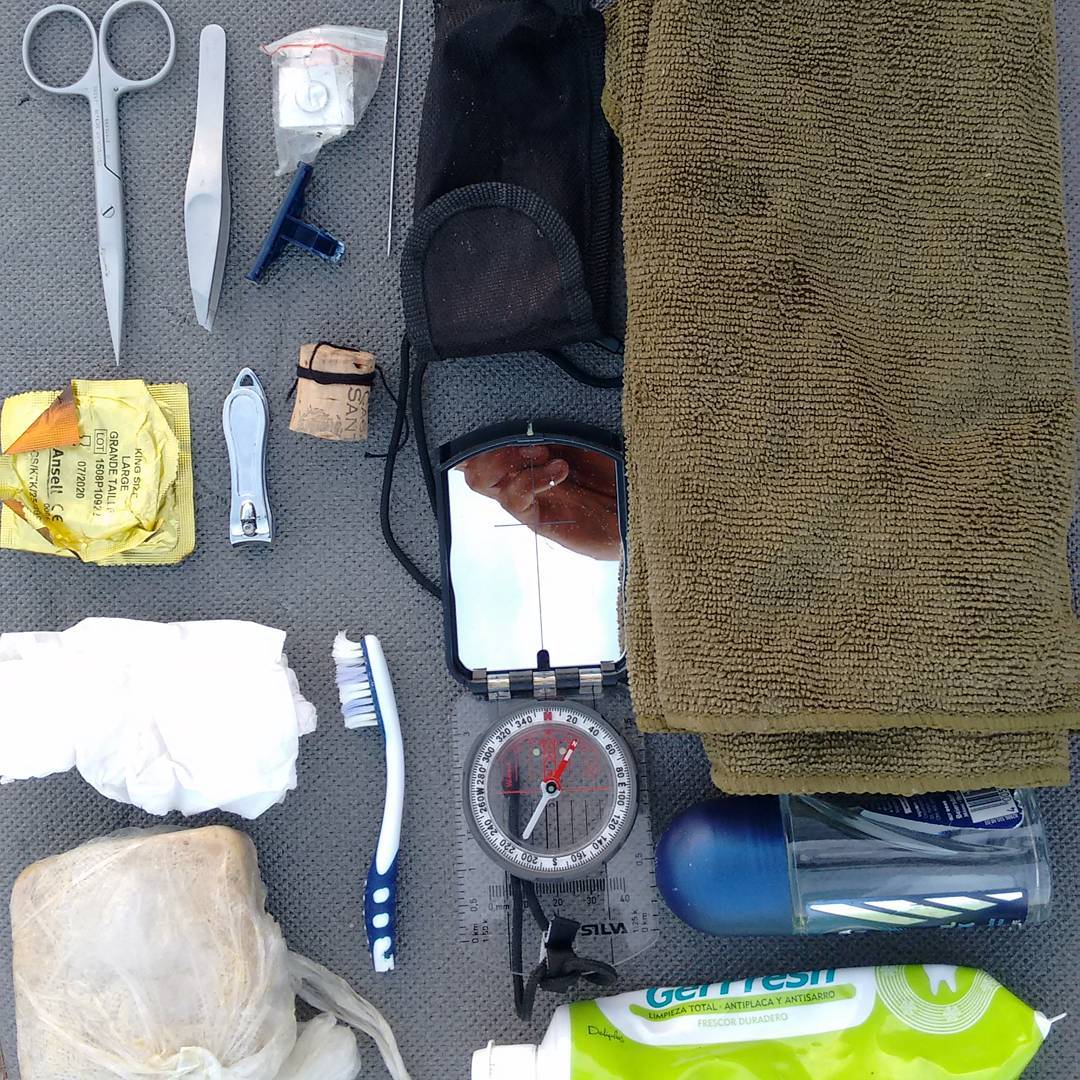 The trick during these long runs is to stay as clean as possible while minimizing weight and effort.
My toiletries set during this trip consisted of:
Baking soda
Sawed-off meme toothbrush
20x20cm quick-dry rag used as a towel
Toothpaste
Bar of soap
Wet wipes
Toilet paper from LIDL
Condoms
Tweezer
Scissors
Thread
Needle
Nail clipper, also good for trimming down bike cables
Cut down razor, unused
Imodium and ibuprofen pills
Other things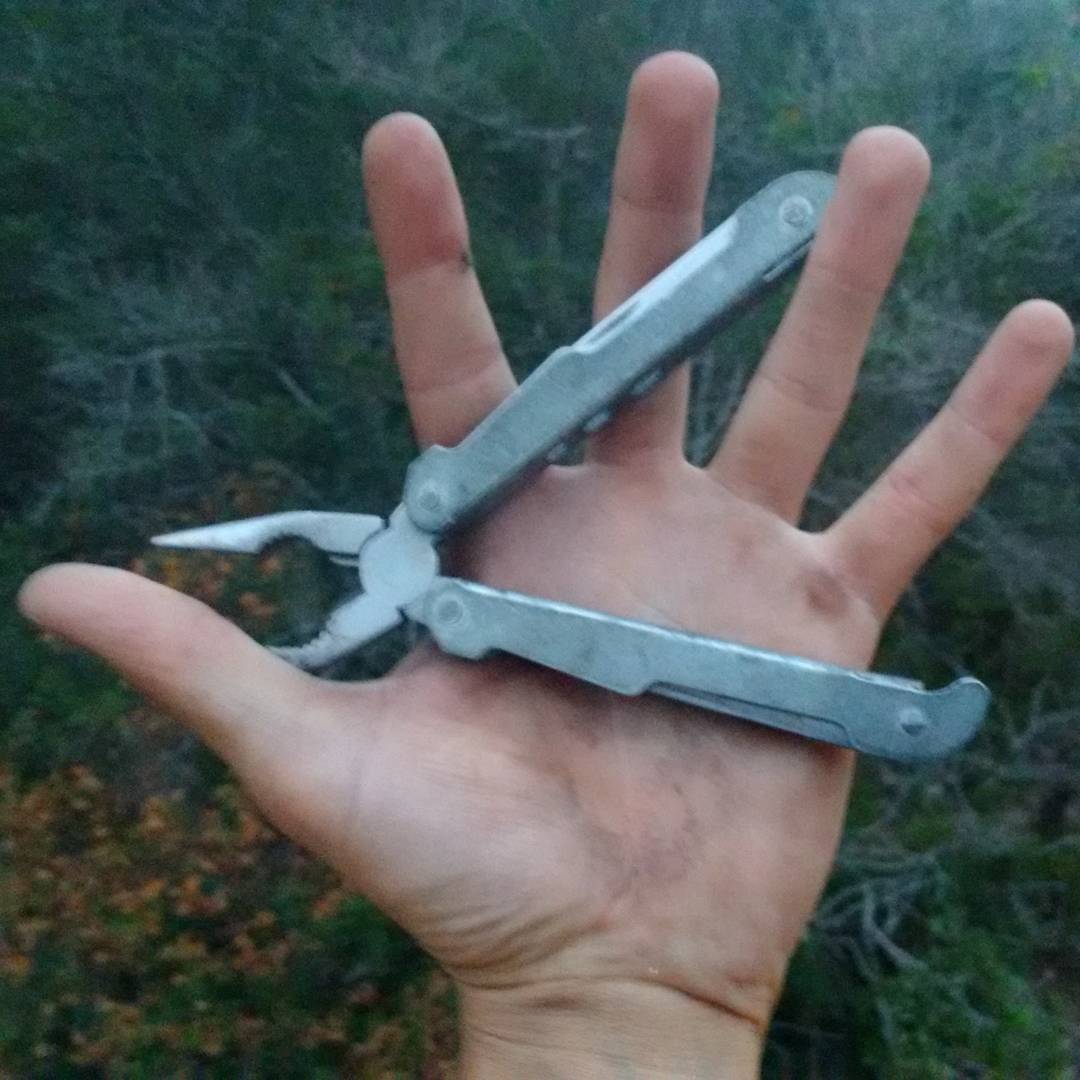 My beloved LIDL multitool
Phone for taking pics and videos, reading offline maps from MAPS.ME, reading books, checking websites and updating my online presence
Short USB/microUSB cable
MicroUSB wall adapter
Solar panel
Backup battery-pack
Tiny foam mat cut down from a camping mat
Plastic bag for frozen food, used as insulation below mat