Walking from Saint-Jean-Pied-de-Port to Lisbon
In 2013 I quit my job and walked both the French and Portuguese pilgrimage trails on the Camino de Santiago network.
Quick facts
1630km in total
70 days
Learned Spanish, Galician and Portuguese while walking
It all started with Pessoa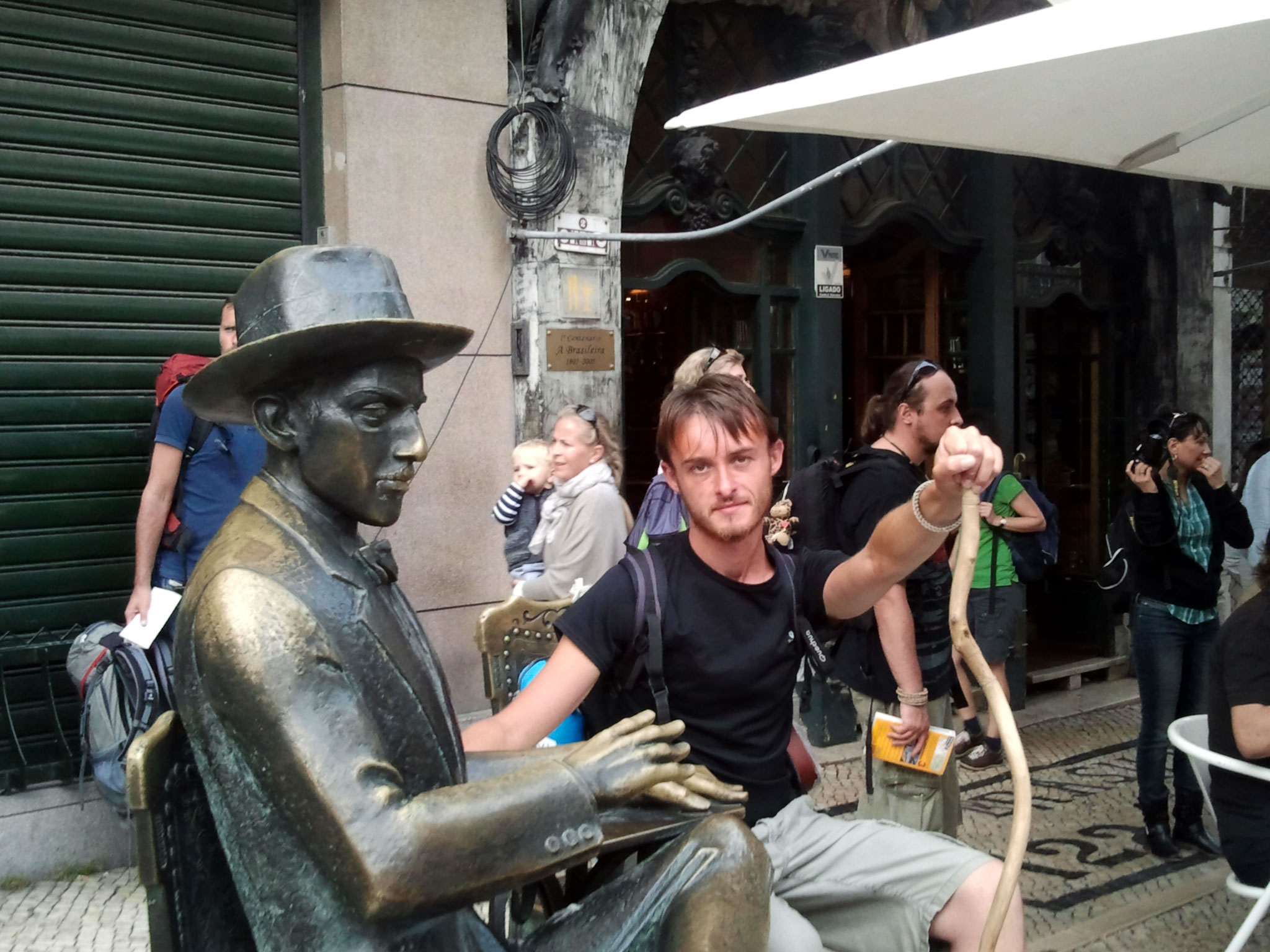 Each of Fernando Pessoa's heterónimos has its own personality traits and writing style.
A poem written by one of them, Álvaro de Campos, moved something inside of me on a flight to Amsterdam. It was the first time art messed with me like that, and it did so at the right moment.
I found myself thinking about reaching Lisbon and visiting the places Pessoa frequented. I needed a break from the routine I was living in and that thought looked every day more like salvation.
The plan: no plan
One night, right before sleeping, I realized that to celebrate my 30s I wanted to radically change my life and embark on an adventure.
I quit my job and declared indipendence by reading more about the way of Saint James, a trip I always wanted to do but always postponed.
A few days after I was on a tiny train to the french village of Saint-Jean-Pied-de-Port.
The gear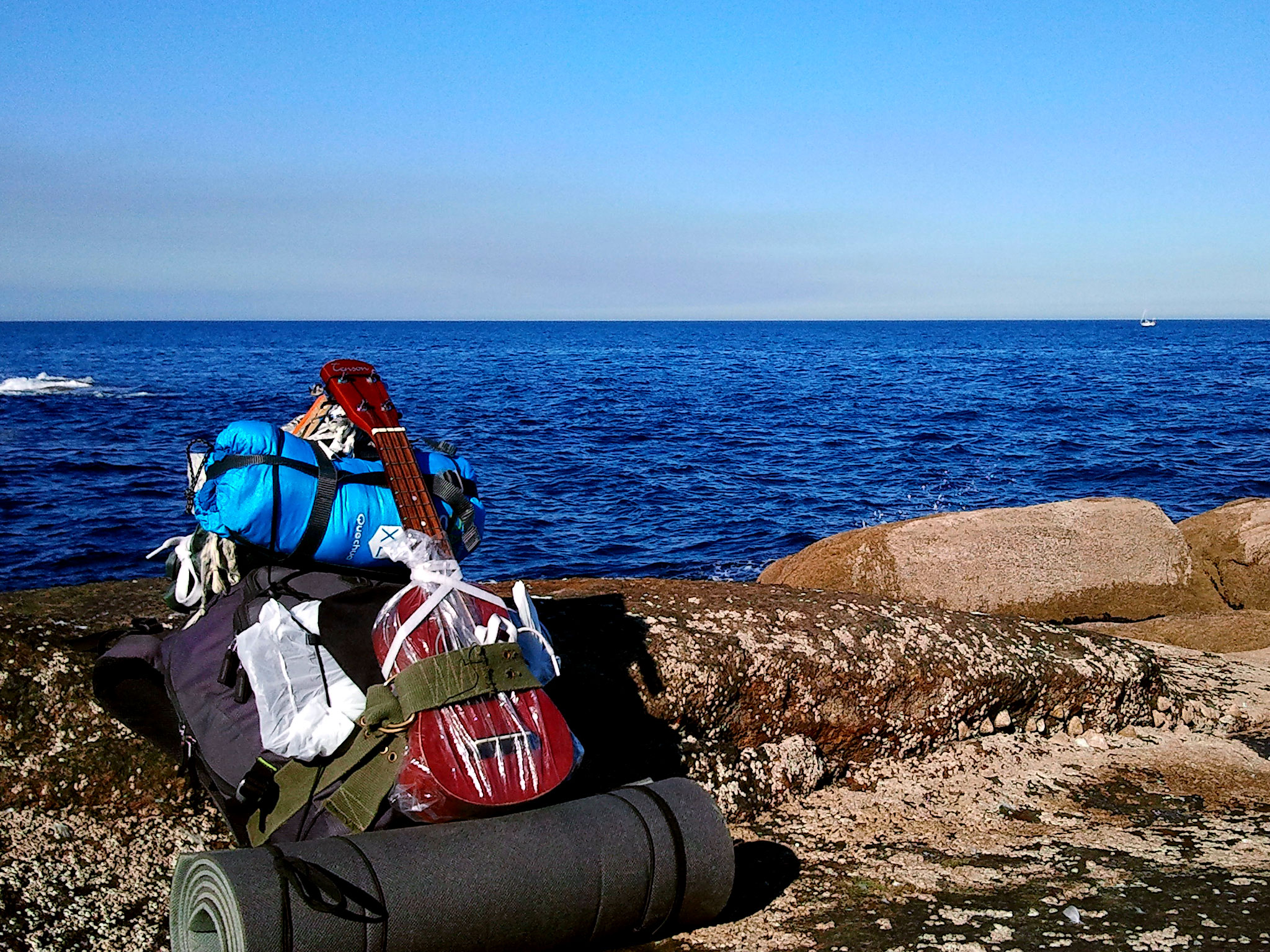 The trick is to travel with baggage that is too small to cover your basic needs. Embracing the suck of having to fix the rest of your wants leads to happiness.
The packing list evolved as I was walking: a lot of excess baggage removed and better pieces of gear added.
This is what I was carrying when I arrived in Lisbon. There have also been my only possessions (plus a laptop later on) while I lived there for a year:
20lt backpack (my beloved Quechua Arpenaz 20XC)
Cargo shorts
Handmade pilgrim seashell
Handcarved walking stick
Long kaki pants
Aluminium cup
Cooking set (pan, pot, dish, cutlery, oil, salt, pepper, chilli, dry meat)
Handsewn cotton pants
Small poncho
3 small books received on the road
Thermos canteen
4 tshirts
Little trinkets I crafted on the road
Document+cash freezerbag
3 pair underwear
Ukulele
Boots
Sandals
Kefia
Light fleece
Washing kit (betadine, plasters, gauze, surgical needles, toothbrush, toothpaste, tiny scissors)
Small towel
Packing belt
Leather belt
3 summer small socks
Industrial grade poncho
Lighter
Knife
Carabiner
Fishing line and hooks
Smartphone and charger
Emergency brickphone and charger
Notebook and pen
More infos on my approach to the walk of Saint James can be found in my Santiago de Compostela ultralight article.
Mind you that the Walk of Saint James done this way is a bit hardcore; so if you are reading this article and want to have a safer and more enjoyable experience I suggest checking out my Santiago guide and packing list for first timers.
How much did I walk
I have no precise idea of how many kilometers I walked, and I think it didn't really matter during this trip.
But, for the sake of posterity and impending memory loss, I have tracked each place where I have got my papers stamped: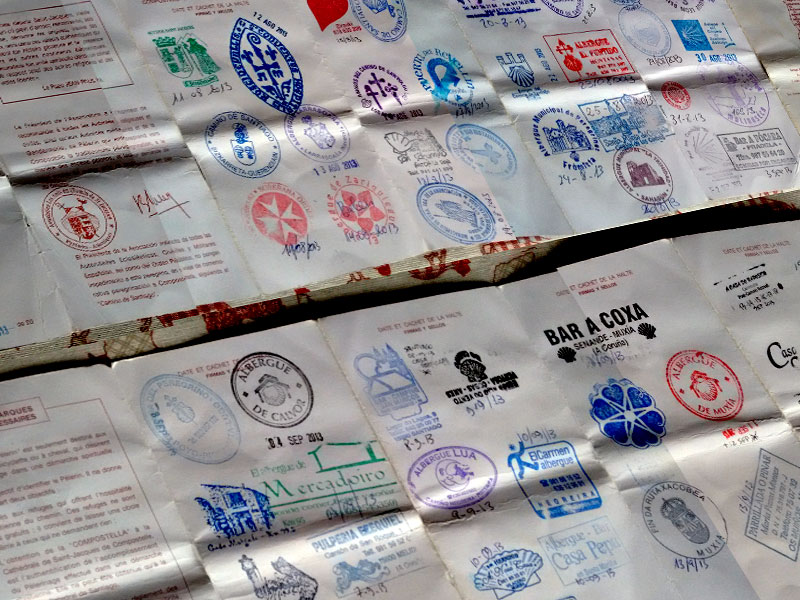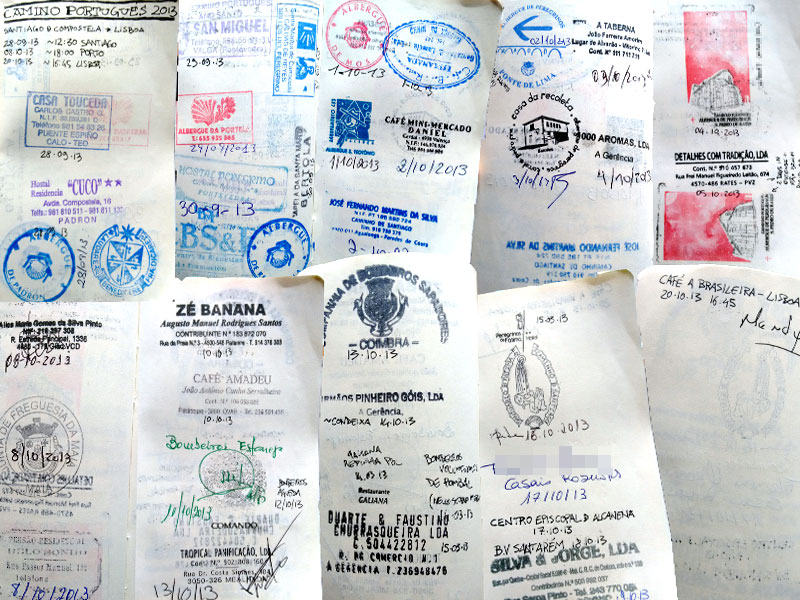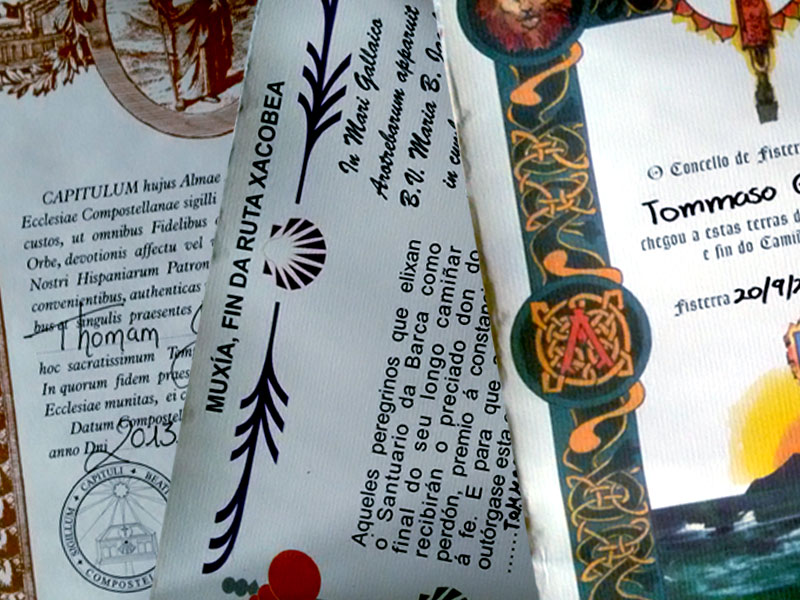 Google Maps does not allow to measure distances for tracks with more than 10 waypoints, so I had to hand-code a gpx file of my Saint Jean Pied de Port to Lisboa hike.
For each segment I have picked the shorter walking distance offered by Google Maps; turns out I walked 1631.7km, an average of 23.31km a day (min 14, max 68.2).
Have a nifty map:
Detail of my French and Portuguese Camino de Santiago walk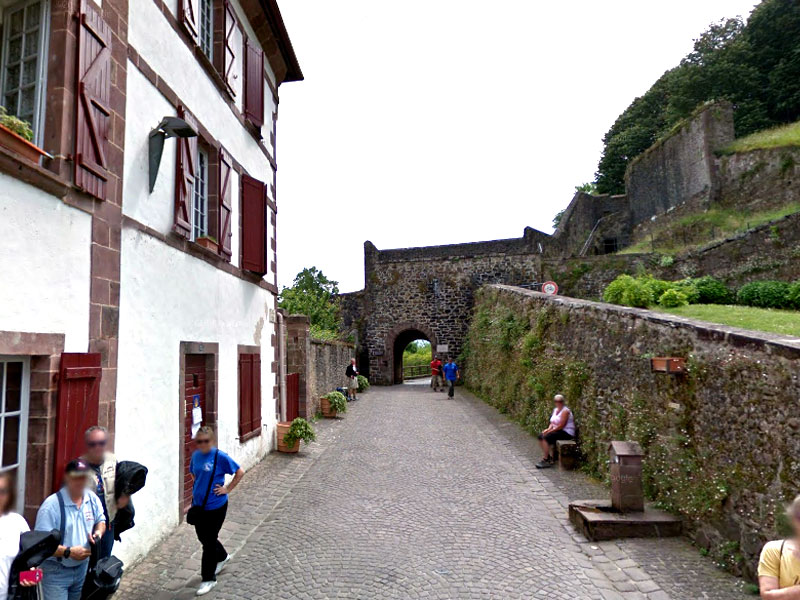 Considering that my attempt at writing a detailed diary of my walk was a failed experiment, I will list a few highlights taken from my diary and notes (some names redacted to protect the innocent and the cheating):
11/08/2013 IT BEGINS - met hippieman + italian
14/08/2013 Almost dead
15/08/2013 Ax.
16/08/2013 Bull race w/ Ax.?
17/08/2013 Hospital burnt legs + rastacouple?
18/08/2013 Met Her. sleeping outside we got lost in las nientes
20/08/2013 israeli girls + Her. + pool
21/08/2013 heavyperitivo till late then walked all night w/ israeli + Her. towards big city lights
22/08/2013 woke up outside someone's bar, owner arrived in the morning and almost died thinking we were dead bodies, spent all day in burgos hostel sleeping
28/08/2013 German brogrammer, met Kat.
29/08/2013 detour w/ Kat.
31/08/2013 Kat? who was i there with
01/09/2013 helped templars at Manjarín, beers + irish MILF
02/09/2013 Crazy dutch girl, steamed all clothes i think helping templars gave me bedbugs
03/09/2013 Spanish dude 2 italian girls
04/09/2013 italomess + romanian girl
05/09/2013 spanish psychologist amazing place
06/09/2013 spanish rocker
07/09/2013 ultraromance is octopus at ezequiel in melide, chilled white wine and a norvegian woman
08/09/2013 punk bar (bar tolo?) + orujo + bed bugs in shitty bed
09/09/2013 bug wounds people stare, atm sprayed with disinfectant after i used it
10/09/2013 nobody would let me stay in hotel (albergue o lugoso + villa pepa), crossed forest at night, slept outside closed hostel
11/09/2013 dude saves my life cleans bag and clothes, spanish hippie gurulawyer tells me about secret pagan temple
12/09/2013 hospital checkup, meds and free betadine! met Pepe
13/09/2013 trying to heal, reading wine, cooking
14/09/2013 sharing views about life and women with irish retired badass, carving my walking stick
15/09/2013 more cooking more taking it easy
16/09/2013 more drinking
17/09/2013 more crafting built a tobacco pipe
18/09/2013 more healing
19/09/2013 back to same place where i hoboed but this time inside
20/09/2013 amazing cabodavila amazing fisterra
21/09/2013 megahealing, learned to fish
24/09/2013 slept in a metal box
25/09/2013 fancy hotel, culture shock break yourself
26/09/2013 german girls + negroni
27/09/2013 woke up w/ hangover in girl bedroom lost tshirt forever + sold artisanal goods i made = life is good
28/09/2013 portuguese girl
29/09/2013 constant rain i smell like dead donkeys got job offer
30/09/2013 dodged creepy hobowoman that talks to jesus bullet, shitty weather, met dude going same way, got job offer in brazil farm
01/10/2013 portugal~
02/10/2013 wine + bacalhao + restaurant alameda + oh susana
04/10/2013 A.
05/10/2013 A. ocean
06/10/2013 A. yoga
08/10/2013 eating a lot
09/10/2013 portuguese married woman + eating a lot
10/10/2013 ocean view
13/10/2013 sick, punks try to steal stuff, slept on floor
15/10/2013 portuguese xenofobia + fatima
16/10/2013 eating a lot life is good
17/10/2013 lost in las nientes, people are megakind
19/10/2013 slept at nuns in hospice filled with dying old peeps
20/10/2013 DONE - arrived at cafeteria a brasileira at 16:45
Lisboazona
When I reached Lisbon I stayed in a fancy hotel for a few nights to decompress, then moved to the best hostel in Lisbon, Good Morning Hostel, where i stayed for a whole month while setting up my life in the portuguese capital.
The place itself, the people I met and the friends I made within the staff will always have a special spot in my heart and I will never thank them enough for all they did to make me feel welcomed in Lisbon.
I became enamored with the place, learned the language and explored the city inside-out; I have collected a few of the tricks I learned in my Lisbon hipster guide, if it helped you have a nice time there please let me know.